My R-390 webpage

---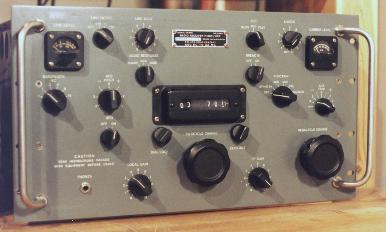 Motorola built R390

---
Motorola-built R-390 Info
1-A very large complement of filters-16,8,4,2,1,and .1 khz if filters for selectivity
2-Manual or automatic 3 stage agc -slow medium and fast
3-Tracking preselector
4 -a very effective noise limiter
5-both line and carrier meters
6-mechanical frequency counter readout
7-bfo for single sideband operation
8-squelch for those noisy utility frequencies opens up on a carrier or voice transmission.
9 extremely sensitive receive section with a very quiet front end. Usually measured at .5 mV or better.Specifications call for 3 mV ,but this is a worst case figure.
10-very good dynamic range and lowest noise floor in any radio I have played with
11-Complete 0 through 32 mhz coverage in 1 mhz band increments.
12.capabilities for use with transceivers with break-in switch * must have a proper voltage relay*
13. 32 vacuum tubes( a lotta tubes to replace when retubing)
14. Sharp ,medium,and wide audio filters
15.antenna trimmer for maximum signal transfer from antenna.
---
Some specs for the R390A version ( these are similiar to the non A version built by Motorola that I have)..
Specifications by Sherwood Engineering
Noise Floor 137db
100khz blocking 130 db
Sensitivity .2 mV
LO noise spacing 130 at 2 khz
Front end selectivity A+ (tracking preselector)
Filter ultimate rejection 85db ( Non A version is different since it doesn't use mechanical filters)
Dynamic range (wide spaced at 20 khz ) 81
Dynamic range (narrow spaced at 2 khz)79
These are of course a very general description of what the radio is capable of. There are going to be some differences considering that the one I have is the non A version,but these specs will give you some idea of what the radio is like electrical performance -wise.
---
I originally bought this radio out of the Bargain Mart magazine here in Louisville about 6 years ago. I think at the time I gave $225 for it, not knowing a thing about the R390's, except that they were very good receivers. So far ,since I have got it I have used it extensively ,except for a period of about 2 years when it was put away in a closet because it quit working. I had no manual, no notes, no nothing on how to use the radio . All I learned was by guesswork.
At
R-390@qth.net ,
all sorts of people are in there looking for answers ,and giving some of their own away on these older radios.

So far with this mailing list I have found out a lot about this old radio and also have learned a lot about how to do some basic trouble shooting. One tool which has been extremely invaluable has been a cd rom made by Jeffrey Adams. This cd rom has the manuals ,schematics,instructions ,and just about everything you want to know about working with ,or repairing the R390 series of radios. I believe there were 390A's, 391's and 392's made that are various versions of the original Collins R390.
A copy of this manual is very inexpensive at $10 .00 in the USA, and can be found by emailing this address
eengineer@erols.com.
For this price alone,the headaches are considerably reduced when you can read about the radio , and most of all, it is clear and legible even after a printout on a Hewlett Packard DeskJet 600.

I have done some minor work on it using these cdrom files and I have to say that when I first opened it up it was kinda scary. Some of the things that was wrong with it when I took it out of the closet after two years was defective bands,a bad IF tube, non contacting bandswitch,bad crystals,and a few other things . After digging through the manual I have now fixed it to where it is 99% functional,all bands working,and all filters operational . The only thing it really needs now is a total alignment to bring back into spec the performance ,but without the right equipment ,that is not something I want to try at the moment .
---
So how does it really work? Well ,I don't have any experience with some of the newer radios such as a Icom R75 ,or Ten Tec RX320.but in my opinion it works extremely well for it's age. I believe that whoever first said this was one of the finest receivers ever made was right . Further along in my website ,I have a link to another page where I put some RealAudio files of stations I have heard on it.
---
Fast forward the time clock to February 2002..
I now am trying it out on a 50 foot or so dipole antenna,strung up behind the building maybe 6 feet off the ground at the moment.It's fed into the radio by way of some 75 ohm tv coax I scrounged up. So far it seems to do fairly well here at the new apartment.Earlier this month I was able to hear Radio Uganda on 4976 khz one night at about an 20 or so on the carrier meter.
South American stations have been pretty audible as well for the most part here,and early in the mornings I have been hearing the NBC-Port Moresby from Papua New Guinea real clear on 4890 while I've been getting ready to go to work.Europeans have been fairly strong here and the Africans on the tropical bands kinda have come and gone as conditions permit. Soon as I am able to get a slingshot ,this antenna will hopefully be a bit higher. But for now it's working as best as it can.

---
There have been several makers of this radio . Some makers have included EAC(Electronic Assistance Corporation),Stewart-Warner,Motorola,Imperial, and others.Without a doubt ,I have to say I would love to have a basement full of these radios.
---

Places to look for a R390 or R390A.
-----------
Fair Radio in Lima ,Ohio.
http://www.fairradio.com/
-----------------------------------------
Rick Mish of Miltronix
Miltronix - Rick Mish
36 E. Manhattan Blvd
PO Box 3541
Toledo, Ohio 43608
419-255-6220
Now I found out he has his own website. Go here to see what services he offers.
Miltronix
---------------------
Chuck Ripple in Florida
mailto:wa4hhg@amsat.org
------------------------------------
This is just a starting point to locate a working ,and or, refurbished R390 ,or R390A receiver. To be straight up front ,these radios usually do not come very cheap,nor are the services performed by these people going to be really inexpensive,but it is a time consuming and very hard effort to work on these radios.They do a very good job and have been recommended by many people in the hobby.
All in all , the R390 is one of the best radios for serious shortwave listening I have ever come across.If you can find one of these and have the funds to have it restored or brought back to good working order I highly recommmend getting one of these fine radios.
---

Now that you have seen a couple of radios,I have a lot more in here to show you .
Click on the link below to go on ,or follow the sign to get back home.

http://members.tripod.com/~swlchris/index-10.html