HI and Welcome to my Mustang Page:)
---
Hello everyone .This is the page that I have been putting off for sometime but now finally have the resources to do something with it I will be continually updating this page as more pictures and links become available.But in the meantime just enjoy what is here and if you have any pictures you want to put in here send them to me and I will see if I can make some room for them
---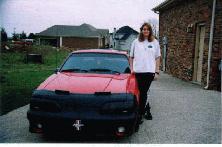 This is one of my friends and her Mustang GT.It seems like Patty is always hoping someone will want to ride around with her in the traffic- courtmobile)She has now got an even faster Ford Mustang Cobra to get pulled over in
---
This is what I generally try to avoid getting pulled over in.The 1982 Mustang GT . The first GT model to be made since 1970 it was the first of the third generation of GT's to come out and started the whole thing to where it is today!

Now try to find one of these in good shape . Very hard to do.

The car next to it is my next door neighbor's Dodge Daytona.She thought she had a fast car till one day when she drove mine. Now she usually looks at hers with disgust at times. Patty took one look at this car and said " I WANT the hood !!!

Some sites I have found to hotrod over to check out

These are some of the pages that I have found tons of info about the Mustang and it's evolution from 1964's introduction of the American icon to the present day whoop it up and get tossed in jail for speeding Cobras

Mustangworld.com Where guys and girls alike hang out to figure out how get that extra 10 HP outta their Cobra's!
1982 Mustang GT Where it all started for the new generation. ( Look here for info on what all was in this great car.
Mustangs Only Live in Southern California and want a place to start looking for parts repairs and even cars for sale?Go here then .
---
What a stock 1982 GT looks like coming up beside you
---
Keep revving that browser because there are more goodies to come flying down the information superhighway soon .
---