Surfing with the Pixies
---
Surfer Rosa cd Cover
---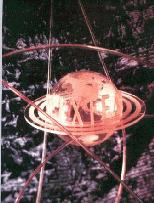 Bossanova cd Cover
---
Welcome
to
my
page
for
all
those
Pixie's
fans
out
there!
Hi there this page is currently under construction at the moment. I hope to receive permission soon to include some Planet of Sound soon . Until then just have to make do with pics and links. I have been a big Pixie's fan ever since I heard a cut from Bossanova back in 1990 on KDGE 94.5 FM in Dallas . I thought it was so cool I turned up the car stereo and blew out my rear window by accident ! I currently have all the releases I could find in this dumpy little town I currently live in .Also known as Louisville Kentucky.
Imagine the Pixie's actually showing up in this state? Well to my surprise they sure did! I saw them at University of Kentucky's Grand Ballroom back in Feb 1992 I think. Right after Trompe le Monde came out! MAN WHAT A HELL OF A SHOW!!!! Also a few months later I managed to get time off to go see the Breeder's as well!
So needless to say I really think that they were one of the best bands to come out in a long time! I think my alltime favorite song from them has to be All Over the World from the CD Bossanova. My next favorite would have to be Palace of the Brine from Trompe Le Monde. Both songs sound awesome and surreal when played live. If you have never heard them you should although chances are really good that they will never play together again.
BIG BUMMER
---